Stephanie Greco, MD
Peritoneal surface malignancies include tumors that spread to the peritoneal surface— the lining that covers the inside of the abdominal cavity and its organs. This causes disease known as peritoneal carcinomatosis. Malignancies that are associated with peritoneal spread include both primary tumors (such as peritoneal mesothelioma) and metastases of other primary tumors (such as those originating in the colon, rectum, stomach, appendix, and ovaries).
Peritoneal surface malignancies are generally treated with a combination of systemic chemotherapy and/or surgery; however, systemic chemotherapy is often not effective for tumors that have spread within the lining of the peritoneal cavity, according to Stephanie Greco, MD, Assistant Professor in the Department of Surgical Oncology at Fox Chase Cancer Center.
HIPEC: A Novel Treatment Option
The specialists at Fox Chase recommend that patients with peritoneal surface malignancies be evaluated for treatment with cytoreductive surgery followed by hyperthermic intraperitoneal chemotherapy (HIPEC).
Sanjay S. Reddy, MD, FACS
During the cytoreductive procedure, surgeons remove all visible tumors and cancerous areas. After this has been completed, HIPEC is delivered directly to the abdomen by bathing it in the chemotherapy solution for up to 90 minutes to destroy any remaining microscopic cancer cells. The chemotherapy used during this process is heated to make the cancer cells more sensitive to the treatment.
"The goal of this two-step procedure is to completely remove all of the disease in the abdomen and destroy microscopic disease with the heated chemotherapy. This may improve survival in some patients," Dr. Greco explains.
HIPEC Eligibility
Just like any treatment, clinicians must weight several factors when determining if cytoreductive surgery with HIPEC is right for each patient. Fox Chase specialists take three factors into consideration:
The histology of the cancer, including the likelihood of growth and spread
Whether or not cytoreduction performed prior to HIPEC can remove all visible disease
The patient's ability to tolerate the invasive procedure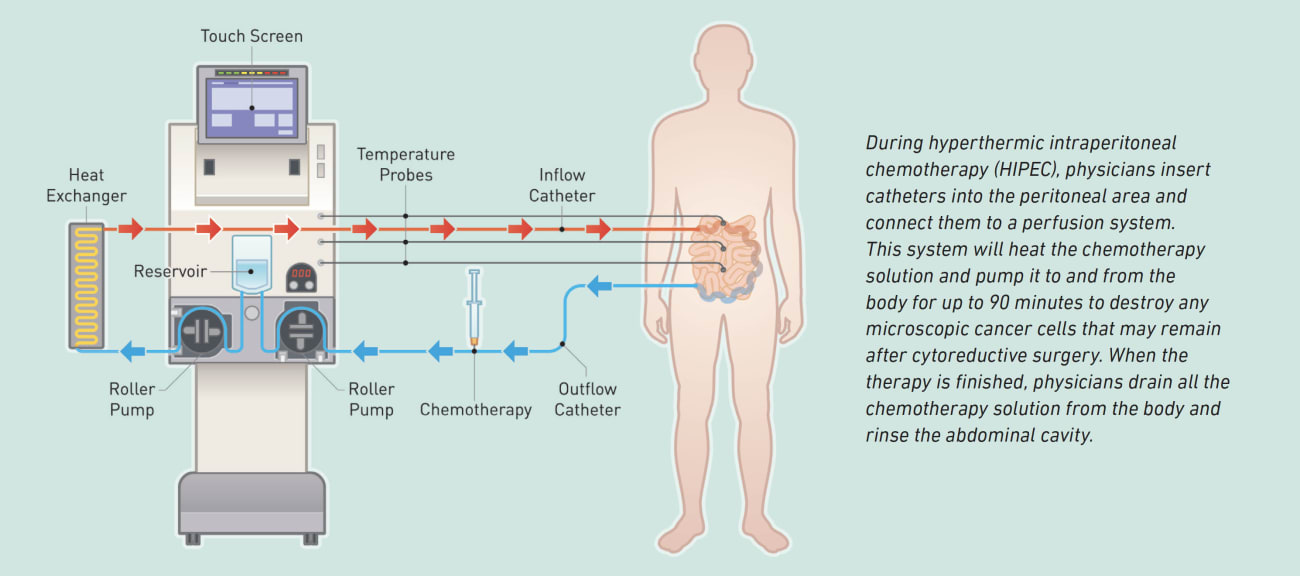 Benefits of HIPEC
Unlike systemic chemotherapy, HIPEC is isolated to the abdominal cavity. This allows a higher dose of chemotherapy to be delivered without the same concern for side effects and toxicity as systemic treatment. It also allows for better penetration of the medicine through direct contact with the peritoneal surface.
"Some patients may achieve a long-term cure with cytoreduction and HIPEC, while others may experience improved diseasefree intervals," explains Sanjay S. Reddy, MD, FACS, Associate Professor in the Department of Surgical Oncology at Fox Chase. "The role of cytoreduction alone has also been gaining momentum in those with metastatic disease from colorectal origin. This is why every patient considered for this type of treatment modality is discussed in a multidisciplinary fashion."
Why Choose Fox Chase?
Fox Chase is one of the few hospitals in the Philadelphia region offering HIPEC for the treatment of peritoneal surface malignancies. If your patient is eligible for cytoreduction and HIPEC, our experienced team will lead them through every step of the process.
The treatment of peritoneal surface malignancies is complex, but our multidisciplinary team will deliver the best possible care tailored to your patient's needs.
Covid-19 and Cancer Care
Learn how Fox Chase is minimizing risks to patients during the COVID-19 pandemic— visit FoxChase.org/Coronavirus.