Within the next 10 years, pancreatic cancer is projected to become the second leading cause of cancer death in the United States. In 2019 alone, an estimated 56,770 people were diagnosed with pancreatic cancer, and 47,750 were predicted to die from the disease.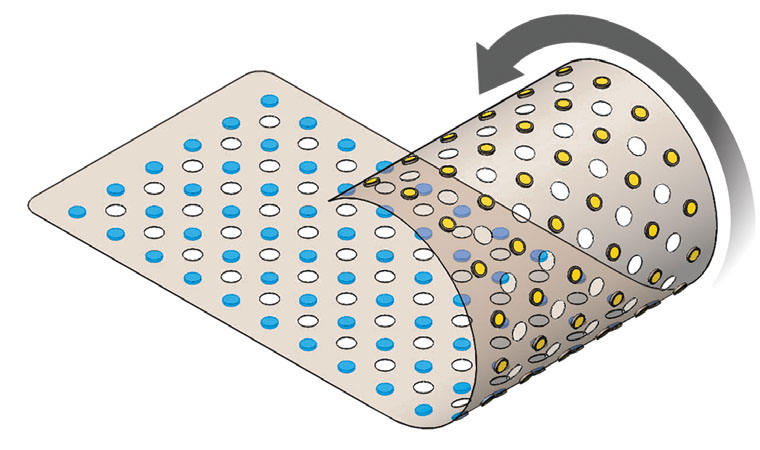 CivaSheet® is a flexible, directional, brachytherapy source containing Pd-103.
While surgery offers the best chance for a cure, it may not be enough, as worrisome margins can indicate cancer recurrence.
CivaSheet® is an FDA-approved Pd-103 brachytherapy planar radiation source that is radioactive on only one side. It is designed to safely deliver high doses of radiation to precisely targeted areas. Gold shielding on the implant protects adjacent, sensitive, healthy tissue and critical structures.
This membrane-like implant is highly flexible, bioabsorbable, and is custom- molded to fit each patient's anatomy and condition.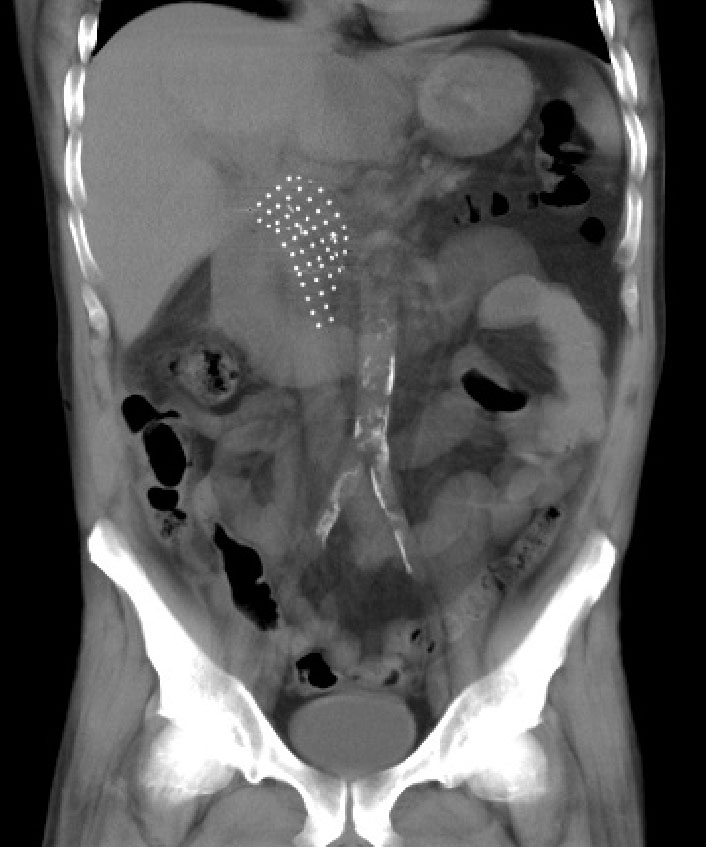 Post procedure CT scan performed at 2.5 weeks
The directional nature of CivaSheet® allows an increased radiation dose to be delivered safely to the surgical margin, reducing the risk of recurrence without increasing radiation side effects. CivaSheet® is also indicated for use as a permanent interstitial brachytherapy source for treating selected localized tumors, and can be used as primary treatment. It can also be used with other therapies, such as external beam radiation or chemotherapy.
"Similar devices and procedures piloted in the past have typically been limited by logistic complexities and the need for specialized equipment," said Joshua E. Meyer, MD, Department of Radiation Oncology and Vice Chairman of Translational Research. "CivaSheet® takes only 15 to 30 minutes to implant, stays in place, and delivers radiation precisely to the targeted area. We've had good results and patients are tolerating it well."
CivaSheet® is used for soft tissue sarcomas, colorectal, gynecologic, head and neck, and pancreatic cancers. Ongoing clinical trials are evaluating CivaSheet® after radical prostatectomy, in abdomino-pelvic cancer, and in borderline resectable pancreatic cancer.
Localized Pancreatic Cancer Trial Now Enrolling
A new Phase I/II clinical trial at Fox Chase is looking to increase the number of patients who are candidates for surgery using the FDA-approved CivaSheet® implant.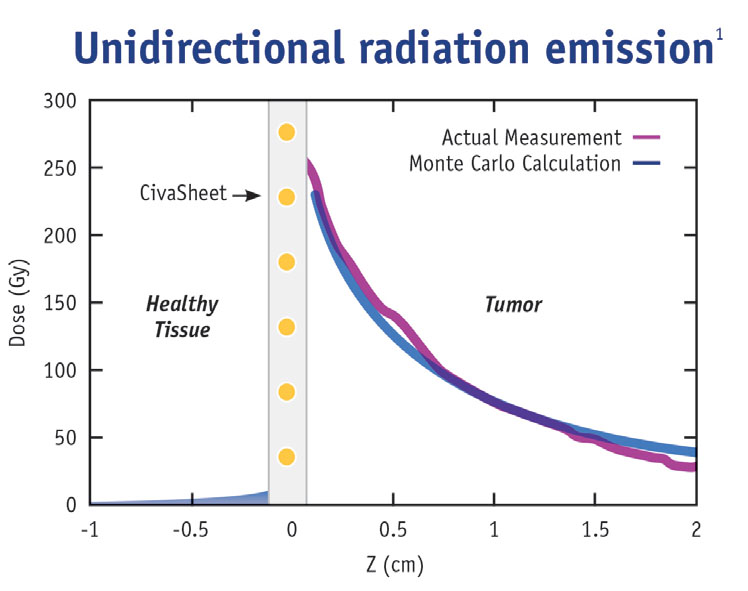 1 Testing data on file at CivaTech Oncology
The study is enrolling patients with borderline resectable or locally advanced pancreatic adenocarcinoma who do not have metastatic disease and will be undergoing a Whipple procedure or distal pancreatectomy. Patients who have been recommended to receive chemoradiation therapy and surgery as their treatment may also be eligible to participate in this study.
Fox Chase is the only center in the region participating in the trial, and Dr. Meyer serves as the trial's national principal investigator. It is one of many innovative clinical trials at Fox Chase designed to offer patients traditional and new therapeutic options.
To learn more about this study, please visit: foxchase.org/CivaTrial or call 215-214-1515.
Case Study
A 73-year-old man sought care for acute back pain accompanied by unexplained weight loss. A suspicious mass was discovered when he was treated for blocked bile ducts, and a biopsy revealed pancreatic cancer.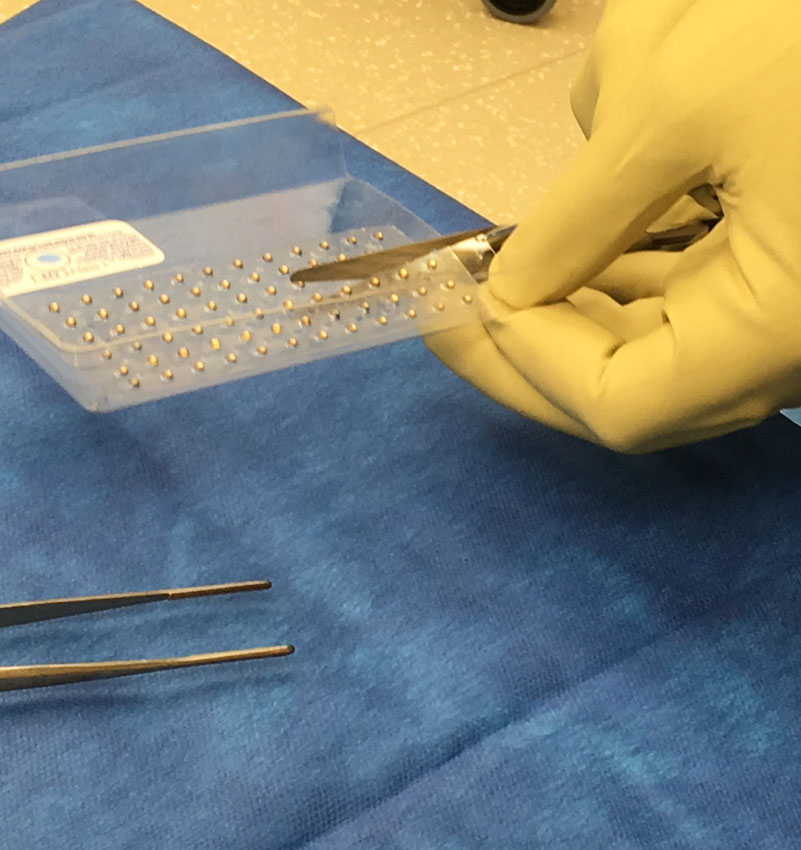 The CivaSheet® may be cut in the operating room.
His treatment included bi-weekly chemotherapy for three months, with additional drugs delivered via a mobile pump after each treatment. This was followed by six weeks of daily radiation. The goal was to shrink his tumor and make him a candidate for a Whipple procedure.
As part of a clinical trial, his surgeon implanted CivaSheet® during his Whipple procedure. The implant provided precisely targeted low-dose rate radiation to the surgical margins, which his care team hoped would eliminate any remaining disease. The CivaSheet® remained effective for about two months and did not need to be surgically removed after treatment was complete.
Two years after his diagnosis and 16 months after surgery, the man had no evidence of disease.
Leaders in Pancreatic Cancer Treatment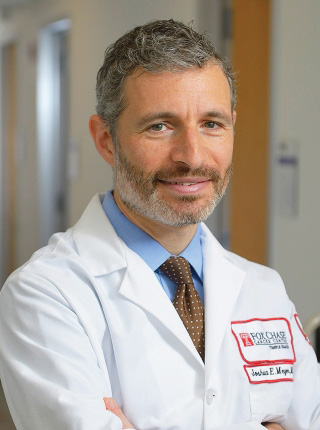 Dr. Joshua E. Meyer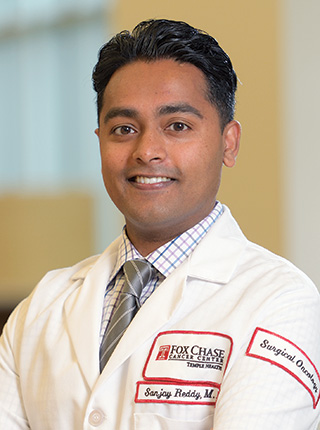 Dr. Sanjay S. Reddy
"Because pancreatic cancer is a complex disease, it's important to seek treatment at a large cancer center," said Sanjay S. Reddy, MD, FACS, Department of Surgical Oncology. "Our NCI-designated cancer center offers many innovative strategies for treating all types of cancers, and whether it's through a national clinical trial or particular surgical technique, we tailor each treatment plan to the individual."
The pancreatic cancer team at Fox Chase Cancer Center consists of physicians and clinical staff specialized in surgical, radiation, and medical oncology as well as pathology, radiology, and gastroenterology.
Together, these specialists determine the best treatment option for each individual and, in the case of CivaSheet® and other novel technologies, work alongside each other to deliver the latest treatments as standard of care or as part of a clinical trial.
Call 888-369-2427 or visit FoxChase.org/Refer to refer a patient.